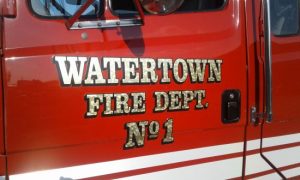 September 13, 2019
Mike Tanner
KWAT Radio News
WATERTOWN, S.D.—Watertown Fire Rescue brought out a piece of extrication equipment known as the, "Jaws of Life" to free the arm of a three year-old girl that was stuck on the hinged side of an automatic, handicap-accessible door.
Watertown Fire Rescue Lieutenant Matt Schell says Engine 4 and Medic 5 responded to the Human Service Agency on 19th Street Northeast at 6:10 p.m. Thursday.
When they got there, they found the small child's arm caught in the commercial door.
They first used a pry bar in an attempt to free the girl's arm. When that was unsuccessful, they brought out the battery-operated "Jaws of Life" to get the job done.
Schell says the girl was taken by ambulance to Prairie Lakes Hospital to be evaluated.