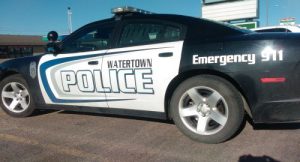 September 11, 2019
Mike Tanner
KWAT Radio News
WATERTOWN, S.D.—One person was injured this (Wednesday) morning in a two vehicle crash in Watertown.
Corporal Jeremy Bjerke says it was reported at 7:47 a.m.  at 19th Street Northeast and Arrow Avenue.
A car driven by Katie Johnson was eastbound on Arrow Avenue, and came to a stop at 19th Street.
A second car traveling eastbound, driven by Stacy Eisenbise, was also eastbound on Arrow Avenue and without slowing down, rear-ended Johnson's car.  The impact pushed Johnson's car across 19th Street, onto the east side of the roadway.
Eisenbise was taken to Prairie Lakes Hospital by ambulance for treatment of non life-threatening injuries.
Charges are pending.