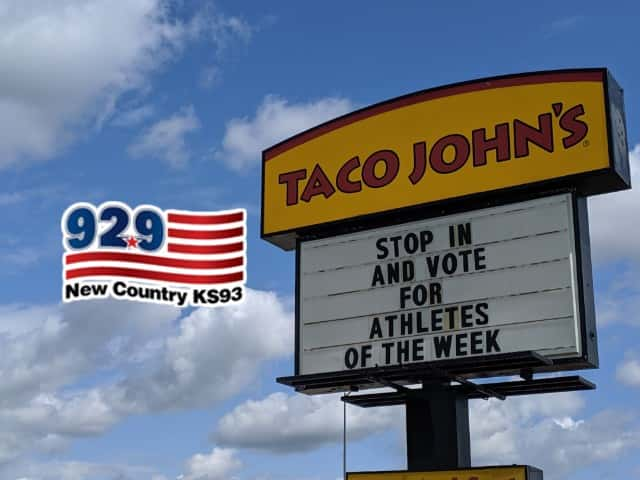 Abate Schulte of Arrow Cross Country and Carter Hoffman of Deuel Football were voted the New Country KS93 and Watertown Taco John's Athletes of the Week.  Schulte for Arrow Sports and Hoffman for Regional Sports.
He has each won 5 free small combo meals from Taco John's in Watertown.
The nominees for this week include for the Watertown Arrow athletics:
Brooke Gronau – Arrow Softball
3 for 3 with two doubles in wins over Sturgis September 7
Megan Fannin – Arrow Tennis
Singles wins vs O'Gorman and Mitchell on September 5
Jake Olson – Arrow Golf
Lead all Arrows with a score of 72 at the Harrisburg Invite September 4th
Nominees for Regional Sports:
Janessa Storley – Webster Volleyball
19 kills and two aces in a victory over Milbank September 5
Ellie Olsen – Deubrook Area Cross Country
Won the girls division of the Dolphin Cross Country Invite September 7th
Nash Grantham – Hamlin Football
6 carries for 62 yards and two TDs in a victory over GPL September 6
Visit Taco John's in Watertown to vote for your favorite Watertown athlete or area sport athlete to win 5 free small combo meals from Taco John's in Watertown.  Voting runs through September 16, 2019.  Winners announced at 5:05PM on New Country KS93.