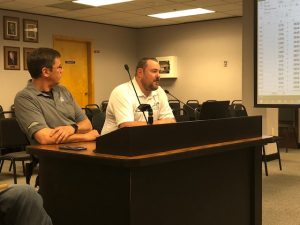 May 14, 2019
Mike Tanner
KWAT Radio News
WATERTOWN, S.D.—The Watertown City Council has agreed to a change in an Essential Air Service contract that all but locks up new daily flights to Chicago.
Today, at a special meeting, the council voted unanimously in favor of the change that will have United Express flying once a day to O'Hare Airport.
Watertown Regional Airport Manager Todd Syhre….
With this change, Watertown will still maintain one daily non-stop flight to Denver. Syhre says that opens up many options for travelers…
Early indications are that the inbound Chicago flight would arrive in Watertown at noon daily, with a 12:30 p.m. departure back to O'Hare.
The only remaining hurdle is U.S. Department of Transportation approval, and Syhre says they are, "for the change."
Syhre expects the Chicago service to begin in September, giving the airline time to pre-sell tickets on the new route.
PHOTO: Watertown Airport Board Chairman Shan Kruse (left) and Airport Manager Todd Syhre field questions from the Watertown City Council Tuesday afternoon on proposed air service to Chicago.