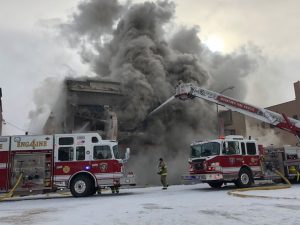 February 7, 2019
Mike Tanner
KWAT Radio News
WATERTOWN, S.D.—A long and rugged day for Watertown Fire Rescue crews who battled a fire at the former Harbor Bar.
The fire at 16 North Broadway was called in around 5:30.
Assistant Chief Don Rowland says due to safety concerns, fire crews went into a defensive mode, attacking the fire from outside the building.
Around noon, the roof collapsed, causing thick, black smoke to pour from the building…
Rowland says people all over town probably smelled smoke from this fire….
A nearby building was saved…..
He says a few firefighters slipped and fell on ice, but there have been no serious injuries.
The fire appears to have started in the basement. There was no one occupying the building, which was being used for storage.
The full 1:30 p.m. update from Don Rowland can be heard by clicking below: