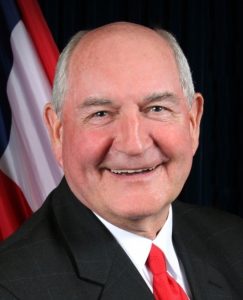 October 24, 2018
SIOUX FALLS, S.D.–Kristi Noem will be getting some help from a member of President Trump's cabinet in the days leading up to the general election.
Agriculture Secretary Sonny Perdue will be making three stops in South Dakota tomorrow (Thursday) with Noem.
They'll start the morning by visiting an ethanol plant in Chancellor, South Dakota.
After that, they'll visit a farm near Lennox, where they'll hold a roundtable discussion on farm issues.
The final stop is at the Brandon Valley Intermediate School, where they'll help serve lunch to students.