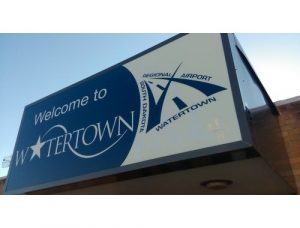 April 16, 2018
Mike Tanner
KWAT Radio News
WATERTOWN, S.D. (KWAT)–Just as blizzard conditions were moving into Watertown on Friday, the city council was meeting to decide on which airline they'd like to see serve the city.
At a noon meeting, the city council voted on an option from the current carrier, Aerodynamics Incorporated, that calls for two daily flights to Minneapolis and one to Denver.
Councilman Bruce Buhler believes adding Minneapolis to the mix can boost passenger boardings at Watertown Regional Airport….
The only other viable option was a bid from Boutique Air, based in San Francisco. They too put a bid on the table to fly to Minneapolis, but unlike A-D-I, which flies 50-passenger jets, Boutique's service would be on small turbo prop planes with only eight or nine seats….
The U.S. Department of Transportation will ultimately decide what commercial air service Watertown will get starting August 1st.
That decision could come sometime in the month of May.