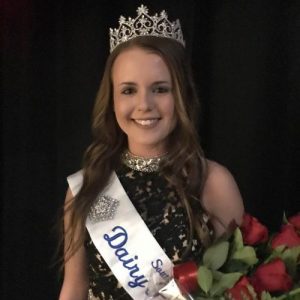 March 28, 2018
SIOUX FALLS, S.D.–An 18 year old Waverly-South Shore High School senior is South Dakota's 63rd Dairy Princess. Morgan Kohl was crowned Tuesday at the Central Plains Dairy Expo in Sioux Falls….
Kohl set her sights on becoming Dairy Princess since she was a child, and now she's ready to step into the role….
She'll spend the next year visiting classrooms and appearing at a variety of events promoting South Dakota Dairy products and educating consumers.
18 year old Rebecka Hoffman of Dolton was first-runner-up followed by 17 year old Brianna Schock of Salem.