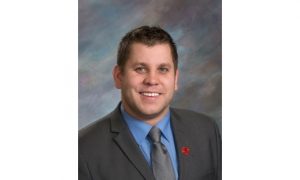 March 8, 2018
PIERRE, S.D.–A pay raise for legislators is headed to the governor's desk,  and if signed, at least one lawmaker says he'll give his extra wages to charity.  
House bill 1311 calls for an increase in pay for legislators to $10,000 a year, up from the $6,000 they receive today.
State Senator Jordan Youngberg (pictured) of Madison joined 27 of his colleagues in passing the measure, and surprised some senators during a floor speech by promising to donate any pay raise he gets to charity next year.  Youngberg says his vote in favor of the raise isn't self-serving, he says a pay increase is needed to increase the pool of candidates interested in serving.   Youngberg says he's not serving  for the money, so he'd donate his to a good cause.
Not all of the Senators agree to raising legislators' pay.  Six voted against the increase, including Senate Minority Leader Billie Sutton.  
The Democrat from Burke says he agrees with Youngberg that we should always be looking for ways to attract more people to run for the legislature, but a pay hike isn't the way to do it, especially during a tight budget year.