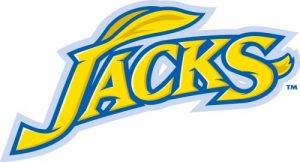 March 7, 2018
SIOUX FALLS, S.D. (KWAT)–The SDSU men's and women's basketball teams punched their ticket to the NCAA tournament after winning the Summit League tournament championship games in Sioux Falls on Tuesday.
In both games, the Jacks beat in-state rival USD.
The Jackrabbit men were 97-to-87 winners. It's the third straight year, and fifth time in the last seven years that SDSU has advanced to the NCAA tournament. They've never won an NCAA tournament game. They hope to change that this year.
The SDSU women beat USD 65-to-50.