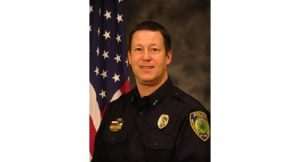 February 2, 2018
Mike Tanner
KWAT Radio News 
WATERTOWN, S.D. (KWAT)–The Watertown Police Department released its annual report today.
Police Chief Lee McPeek (pictured) says in 2017, officers responded to 22,316 calls for service; up two percent from 2016.
Adult arrests were up 18-percent over the previous year, while juvenile arrests rose three percent.
Traffic citations increased by three percent. Watertown police made 208 drunken driving arrests and 800 drug arrests.
The Watertown Police Department conducted one homicide investigation last year, which was the first since 2013.