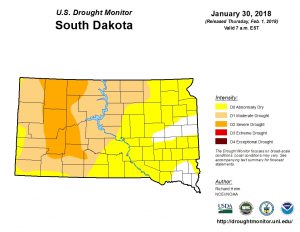 February 1, 2018
Mike Tanner
KWAT Radio News
WATERTOWN, S.D. (KWAT)—It's unusual to be talking about drought conditions during the winter months in South Dakota, but that certainly is the case this year.
The latest U.S. Drought Monitor Map released today shows only six percent of the state is not considered to be at the very minimum, abnormally dry.  
Sixteen percent of South Dakota is considered to be in severe drought conditions, while most of the state is either in moderate drought conditions or considered to be abnormally dry.
Watertown has received only 8. 1 inches of snow the entire winter, including 1.7 inches during the just completed month of January.