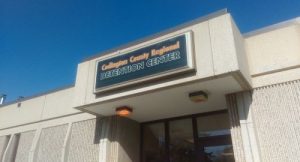 January 3, 2018
Mike Tanner
KWAT Radio News
WATERTOWN, S.D. (KWAT)—As the temperatures have gone down in recent weeks, so has the inmate population at the Codington County Detention Center.
Sheriff Brad Howell says that's pretty typical this time of year. He gave KWAT News an update this morning….
Howell says one issue they'll be working on this year is reviewing how much to charge counties other than Codington to house their inmates in Watertown….
Howell says normally, the number of non-Codington County inmates at the jail is only a few, but he says even with that, the dollars generated helps pay the bills….
Howell says the average daily inmate population at the jail for the first 11 months of 2017 was just over 79.