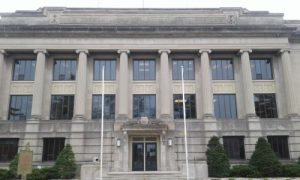 January 2, 2018
Mike Tanner
KWAT Radio News
WATERTOWN, S.D. (KWAT)—Members of the Codington County Board of Commissioners voted to give themselves a small pay raise this year.
The commissioners met for the first time in 2018 this morning, and they voted unanimously to give themselves the same cost-of-living increase as other county employees—one-and-a-half percent.
Board Chairman Myron Johnson….
With the pay raise, commissioners will see their salaries go up $26.88 a month. That will push their annual salaries to $21,823.44. Johnson, as chair, makes an extra $100 a month for an annual salary of $23,023.44.
The commission also voted to raise the salaries of election judges at the recommendation of Auditor Cindy Brugman….
The school is a short training session the judges attend prior to an election. Johnson says without the increase, they could run into problems on election day….
The commission voted to keep the county coroner's salary the same for 2018, which is $175 for each death investigation he's called out to, plus mileage.