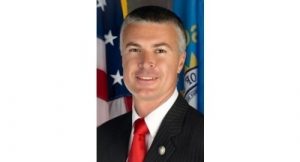 PIERRE, S.D. (AP) -A South Dakota trooper says state highway patrol officials found a dead woman wrapped in a blanket in an SUV stopped after a high-speed chase with a drunk driver from California.
A court complaint filed Tuesday says 30-year-old Tosten Walsh Lommen, of Santa Cruz, faces charges including aggravated eluding and drunken driving. Attorney General Marty Jackley's office says state authorities are investigating the "suspicious death."
The Pennington County Clerk of Courts office says Lommen's bond has been set at $2.5 million.
Jackley's office says a Highway Patrol trooper on Monday observed Lommen driving over 100 mph on I-90 in western South Dakota.
Trooper Jeremy Biegert says in a court affidavit that the vehicle came to rest in a ditch after officials used spike strips. Biegert says officials found the body in the rear of the vehicle.