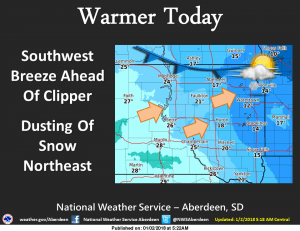 January 2, 2018
Mike Tanner
KWAT Radio News
WATERTOWN, S.D. (KWAT)–It's a  brutally cold start to the new year after record-setting temperatures over the weekend.
Watertown dropped to 27 below zero Sunday morning and 25 below Monday morning, but there were places even colder than that.
Mobridge dropped to 30 below zero Monday. Aberdeen was 32 below. Those were both records for the date.
National Weather Service forecaster James Telken says the coldest temperature he saw in the region over the New Year's weekend was Hettinger, North Dakota at 44 below zero. He says wind chill values dropped as cold as 55 below zero in Polo, South Dakota on New Year's Eve.
The good news—warmer weather is coming…..
A Wind Chill Advisory remains in effect region wide until 10 this morning, with wind chills in the 20 below to 35 below zero range.