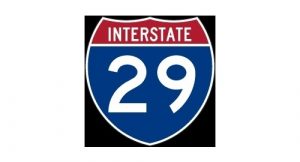 December 22, 2017
BERESFORD, S.D. – Two people died Thursday afternoon in a two-vehicle crash on Interstate 29 eight miles north of Beresford.  
Names of the deceased, along with the name of the other driver, are not being released pending notification of family members.
A 2003 Ford F-150 pickup was northbound on I-29 when the driver lost control. The vehicle left the roadway, rolled through the median and across the southbound lanes landing on top of a southbound 2003 Volvo xc70.
The 79-year-old male driver of the Volvo was pronounced dead at the scene. It is not known if he was wearing a seatbelt. The 78-year-old female passenger, who was wearing a seatbelt, was later pronounced dead at a Sioux Falls hospital.
Charges are pending against the 38-year-old male driver of the pickup. He was wearing a seatbelt and was taken to a Sioux Falls hospital for treatment of serious non-life threatening injuries.
The crash was reported at 12:20 p.m. Thursday.