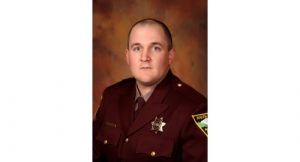 RAPID CITY, S.D. (AP) – A man accused of trying to kill a South Dakota state trooper following a traffic stop has been convicted of attempted murder.
A Pennington County jury found 35-year-old Donald Willingham guilty on Thursday.
The verdict comes two years after Trooper Zachary Bader (pictured) stopped an SUV along Interstate 90 near Box Elder for speeding.
Prosecutors say Bader found marijuana in the vehicle's cargo area and was about to handcuff Willingham when Willingham punched him to the ground and continued swinging.
In a recorded police interview played for the jury, the Renton, Washington, man said he didn't intend to hurt the trooper but was afraid of going to jail for transporting 40 pounds of marijuana and losing $30,000 in cash.