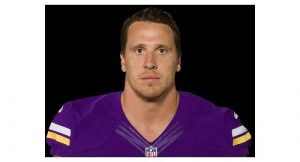 SIOUX FALLS, S.D. (AP) – Two former professional athletes are being inducted into the South Dakota Sports Hall of Fame next year.
Linebacker Chad Greenway of Mount Vernon led Stickney-Mount Vernon to a state football title, earned All-American honors at the University of Iowa and then spent 11 years with the Minnesota Vikings.
Second baseman Mark Ellis of Rapid City won back-to-back American Legion Player of the Year honors, played in the College World Series with the University of Florida and then spent 12 seasons in the major leagues, mainly with Oakland.
Greenway and Ellis are among 16 people who will be inducted into the hall in Sioux Falls on April 14.