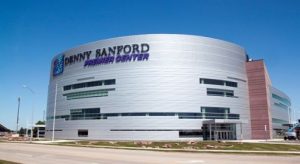 SIOUX FALLS, S.D. (AP) – Sioux Falls has selected a Chicago company to review the structural soundness of flawed siding on the city's new $117 million events center.


Simpson Gumpertz & Heger Inc. was among four firms that submitted proposals to review the panels on the Denny Sanford Premier Center.


The flawed paneling was the subject of a city settlement with five construction companies in 2015. Mayor Mike Huether's administration last month agreed to hire an independent consultant to assess whether the exterior panels are protecting the building's interior.


An earlier forensic report concluded the flawed paneling wasn't worth replacing, but the report was never made public
City secrecy surrounding the paneling problems have prompted calls from the public, City Council and Chamber of Commerce for more transparency.
—