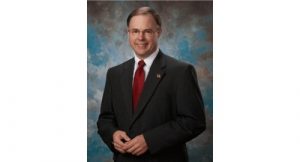 October 18, 2017
Mike Tanner
KWAT Radio News
WATERTOWN, S.D. (KWAT)—South Dakota Public Utilities Commissioner Chris Nelson (pictured) says the PUC could be very busy dealing with proposed wind farms across South Dakota over the next year.
The latest proposed project is called Dakota Range. It would be located north of Watertown, in Codington County….
Nelson tells KWAT Radio News why there's a big push for wind power happening right now…
Dakota Range would be a 300-megawatt wind farm covering a 40,000 acre site. As wind projects go, Nelson says this is as big as they've seen….
Before any construction can begin, the PUC will need to sign off on the project…
Dakota Range would be developed by Apex Clean Energy, and owned by Xcel Energy.
Xcel says it would produce enough electricity to power more than 157,000 Upper Midwest homes.