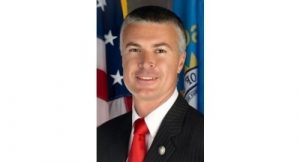 October 10, 2017
PIERRE, S.D. – Attorney General Marty Jackley and Hughes County State's Attorney Wendy Kloeppner have announced that 35 year-old Karen Monical and 37 year-old Brian Picotte, both of Sioux City, Iowa were arrested on September 15, 2017, on numerous drug charges with the help of an anonymous tip received by the Hughes County Sheriff's Office as part of Project Stand Up.
"This anonymous text tip line was created to encourage South Dakotans to report suspicious drug activity though a simple text. Citizens can be the eyes and ears and the great resource to assist law enforcement," said Jackley. "These arrests are great examples of how local, state and federal authorities and now the private citizen can work together to take drugs off the streets and keep our communities safe."
The Hughes County Sheriff's Office received a tip that detailed the name, location, license plate number and specific activity being observed that allowed investigators to locate a person who was wanted on a felony warrant out of Iowa. During the subsequent investigation by the Pierre Police Department, evidence of illegal drug possession was found. The two individuals were arrested on the marijuana and meth-related charges.