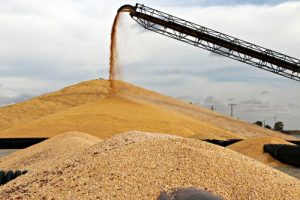 PIERRE, S.D. (AP) – Corn and soybeans are supplanting wheat as the crop of choice among South Dakota farmers because of higher profitability.
This year's planted acres of spring and winter wheat in the state fell to just over 2 million, one of the lowest figures since the 1800s.
U.S. Department of Agriculture figures show that South Dakota farmers seeded wheat on 4 million acres as early as the year 1900. But lower prices and profitability for wheat compared to corn and soybeans the past 10 to 20 years have convinced farmers to plant less wheat.
Reid Christopherson is executive director of the South Dakota Wheat Commission. He says wheat has become "a rotation crop," meaning it's planted more for the agronomic value between corn and soybean plantings rather than for the cash grain value.