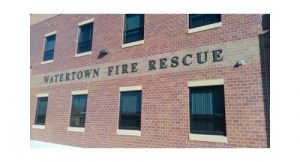 9-13-2017
Mike Tanner
KWAT Radio News
WATERTOWN, S.D. (KWAT)—Watertown Fire Rescue was called to a pair of separate gas leaks Tuesday, one of which resulted in a fire.
The first call came in just after 5 p.m. to the new addition being built onto Prairie Lakes Hospital.
A boring company doing work on the site cut a gas line. The line was quickly shut down by Municipal Utilities and there was no threat to the hospital or Cancer Center.
The second call came in just after 6:30 p.m. to an apartment at 303 5th Street Southeast. The occupants of the apartment told first responders that the gas line hooked to a stove was leaking.
When crews were shutting off the line, the gas reached the pilot light on the stove and caused a small explosion and fire on the stove top.
The fire was quickly extinguished and the gas line was shut off. Fans were used to clear the apartment of any lingering natural gas. Damage to the stove was estimated at $300.