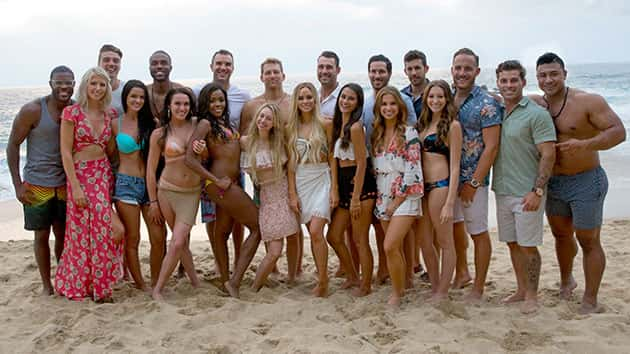 ABC/Paul Hebert(NEW YORK) — The show was split into two segments on Tuesday night's episode of Bachelor in Paradise. The first segment focused on the latest drama on the beach while the second segment was live and featured fan favorites Raven, Jasmine, Derek, Diggy and Robby offering their takes on what went down between Corrinne and DeMario. Then DeMario himself came out to testify. Plus, two married couples from past Bachelors announced their pregnancies!
Things heated up quickly at the beach when Sarah Vendal, from Nick Viall's season of The Bachelor, arrived with a Date Card and instantly threw a wrench into the works between Raven and Adam. It was clear they had some prior chemistry and seeing that, the girls rallied for Raven and tried to convince Sarah to ask Ben out. That plan failed and Sarah took Adam out for a smoldering date with a lot of kissing.
Lacey was having no luck but after whining about it suddenly got a Date Card and ended up taking Diggy out for a romantic date riding horses on a secret beach. It seemed like things were going well, until the next day when sexy Dominique arrived sporting tropical braids. It was all over for Lacey when Diggy saw Dominique and soon they were laughing and making out in the pool. Lacey was crushed.
Danielle, said she didn't feel that there was a man for her in Paradise, though she is clearly stuck on Wells. She decided to take a position with a charity in Kenya and said her goodbyes. Her goodbye with Wells ended in some serious kissing and hinted that maybe they might be seeing each other again in a much different light.
For the live segment of the show, Chris Harrison reviewed the events that led to the production shutdown and talked to some of the cast about it. Raven and Jasmine were confident that neither Corrinne nor DeMario had done anything wrong and felt compelled to stand up for them when people started trashing them in the press and on social media.
The mood was improved when two couples from past Bachelors announced their pregnancies. Jade and Tanner announced that that they were due on September 12, although in reality they had their baby girl four weeks early on August 17, which they shared on Instagram. Then Evan and Carly, who got married on the second night of this year's season premiere, announced their good news and Carly even had a live ultrasound. It was too early to determine a gender, but not too early for everyone to squee!
Finally, DeMario came out to tell his side of the production shutdown drama. He clearly and confidently stated that he did not believe there was any sexual misconduct between him and Corrinne but nevertheless had to face public outrage about it. He said had a difficult time coping with the fallout, but that he got through it with "family, friends and Kanye West."
The show ended on a light note as we returned to the beach to hear Raven, Wells and Jasmine discuss euphemisms for sex. Raven shocked everyone with her unique, Southern, "Stank on your hangdown."
Bachelor in Paradise returns next Monday and Tuesday nights at 8 p.m. on ABC.
Copyright © 2017, ABC Radio. All rights reserved.