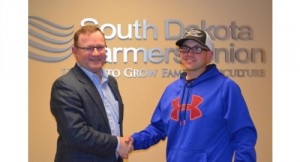 4-28-2016
HURON, S.D. (KWAT)–South Dakota Farmers Union (SDFU) President Doug Sombke (pictured left) met with Garret Bischoff in Huron this week to discuss a path forward to a stronger Farmers Union.
"I wanted to meet with Garret to discuss the future of Farmers Union. We had a very cordial and productive conversation and Garret told me he is not in the fight that has been reported in the media and he is not seeking a new election at this time. At the end of the meeting, Garret even asked for a hug," said Sombke.
It follows reports that some SDFU districts approved resolutions asking that the results of the 2015 election of officers be declared invalid. There were allegations of election fraud, and a small group was seeking the removal of Sombke as president of the organization.
"My investigation revealed no facts to support the allegations about election irregularities or employee complaints, " said Angela Brandt, outside legal counsel for South Dakota Farmers Union. "As an attorney, I deal in facts, not allegations, so I reached out to various members of the group challenging the leadership to find out what facts they claim support their position. None of them agreed to answer any of my questions. It does not take a law degree to draw conclusions about that."
The South Dakota Farmers Union Board is happy to move on from the distraction. "Now that the disagreement over the election is behind us, we can now put our focus and efforts on assisting farmers and ranchers who founded this organization more than a century ago. With the current grain and cattle prices, it is extremely important that Farmers Union continues to help and assist these farmers and ranchers in tough times like these. Together we can accomplish what we cannot do alone," said Sombke.