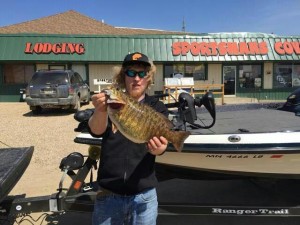 4-25-16
WEBSTER, S.D. (KWAT)–A state record smallmouth bass was caught over the weekend on Horseshoe Lake near Webster.
The fish, caught by Lyal Held of Barnesville, Minnesota, weighed in at 7 pounds, 3 ounces, was 19 inches long with a 19 inch girth.
Held called a South Dakota Game Fish and Parks biologist in Webster after he caught the fish. The fish was taken to Sportsmen's Cove in Webster where it was weighed and certified, then brought back to Horseshoe Lake, where it was released.
The fish broke the old state record by three ounces.