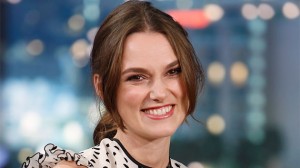 (NEW YORK) — When Harry met…Keira? Keira Knightley recreates Meg Ryan's fake orgasm scene in When Harry Met Sally in a short film posted on Vanity Fair's website in honor of its Hollywood Issue highlighting British stars.
In the clip, Knightley screams out in a restaurant, much like Ryan's Sally did in the 1989 movie. We then see Judi Dench, in another location, reciting the famous line, "I'll have what she's having."
The short film has a number of British actors invading Tinseltown by recreating iconic movie moments. For example, Tom Hiddleston and Oscar-nominated actress Felicity Jones play Bonnie and Clyde.
The three-part film also features appearances by Benedict Cumberbatch, Eddie Redmayne, Orlando Bloom, soon-to-be-Late Late Show host James Corden, and many more.

Vanity Fair's Hollywood Issue hits newsstands Wednesday.