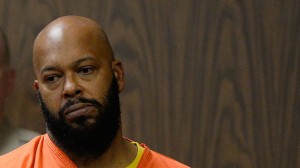 (LOS ANGELES) — Music producer Suge Knight was released from a hospital on Wednesday night and taken back into the custody of the Los Angeles County Sheriff.
Knight, 49, was rushed to the hospital on Tuesday after his arraignment on murder charges related to a fatal hit-and-run accident in Compton last week. He had pleaded not guilty.
Knight was involved in an altercation outside a restaurant last week. As he attempted to drive away, he allegedly ran over two men, killing one and injuring a second. Knight was subsequently charged with one count of murder, one count of attempted murder, two counts of hit-and-run with an allegation that he committed a serious and violent felony while out on bail in another pending case.
The hit-and-run case remains under investigation by the Los Angeles County Sheriff's Department.