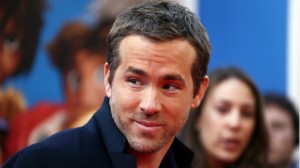 (NEW YORK) — David Letterman did his best on Wednesday night's Late Show to persuade guest Ryan Reynolds to reveal the name of his six-week-old child, but the actor stood his ground and refused to spill the beans.
Reynolds and his wife, Blake Lively, welcomed their first child late last year. While the actor, 38, confirmed the baby's gender to Letterman — it's a girl — he said he didn't want to divulge her name in a "media context."
However, he added, "I tell everyone who I meet. So it will come out."
Reynolds dropped a few vague hints: the baby name is connected to a family name, and the child has a first and a middle name.
He reiterated the first name is not Violet, as has been reported. He commented, "That's Ben Affleck's daughter's name. I'd never steal another celebrity baby's name. So I went with Shiloh," referring to Brad Pitt and Angelina Jolie's daughter.
Letterman attempted several guesses, throwing out names like Olivia and Emma, but they were all incorrect.
Reynolds gushed over his bundle of joy, saying, "When we had that baby I fell more in love with my wife than I'd ever been in my entire life."
Love seems to have its limits in their marriage, though. Reynolds joked, "I used to say to her I would take a bullet for you…and then the second I looked in that baby's eyes, I knew in that exact moment that if we were ever under attack I would use my wife as a human shield to protect that baby."
He further quipped that while he's a "diaper-changing facility" to the baby, Lively, 27, is "breakfast, lunch and dinner. She's a human Denny's."
Reynolds was on Late Show to promote his new movie, The Voices, which will be released in theaters and via video on demand on Friday.