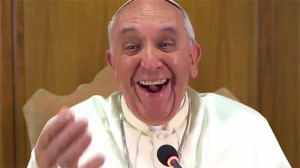 (NEW YORK) — During a Thursday video chat with disabled children, Pope Francis revealed that he doesn't know how to use a computer.
The pope spoke in Spanish throughout the event, listening intently and answering questions carefully and seriously while infusing bits of humor at times. The event was part of the closing ceremony of the IV World Educational Congress of Scholas Occurrentes. The international network of Scholas Occurrentes includes 400,000 state and religious schools started by youths in Buenos Aires, borne from the wish of Archbishop Bergoglio, now known as Pope Francis.
Questions came from children around the world, including children in Nebraska and Hyderabad, India.
When asked by one child whether he liked "to take photos and then upload them on your computer," he answered succinctly. "I'm a disaster with machines," Pope Francis said. "I don't know how to work a computer. What a shame!"