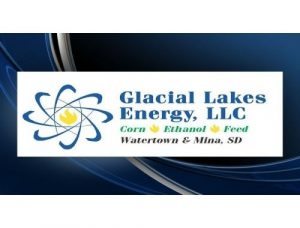 October 24, 2017
Mike Tanner
KWAT Radio News
WATERTOWN, S.D. (KWAT)—Drought was a word heard early and often in South Dakota farm country this summer, and it had Glacial Lakes Energy CEO Jim Seurer worried about the corn crop.
Glacial Lakes uses corn to make ethanol at its plants in Watertown and Mina.
Seurer says thanks to some timely rains in July, it looks like a better than anticipated crop….
The end result is, they should have plenty of corn to make ethanol at both plants this fall…
Seurer says in this case, they dodged a bullet….
As the corn comes off the fields, Seurer says you'll see it starting to pile up at the two  Glacial Lakes plants….
The Watertown and Mina plants combined, take in about 90-million bushels of corn a year that is made into ethanol fuel.