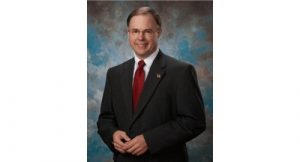 October 12, 2017
Mike Tanner
KWAT Radio News
WATERTOWN, S.D. (KWAT)–Last month, Xcel Energy announced plans to build and own a new 300 megawatt wind farm on a 40,000 acre site 20 miles north of Watertown.
The proposed Dakota Range project would produce enough energy to power more than 157,000 homes.
It's being developed by Apex Clean Energy Management LLC. The Codington County Board of Adjustment will take up their request for a conditional use permit at a hearing Monday at the Codington County Extension Complex.
Eventually, the siting and permitting process will be taken up by the South Dakota Public Utilities Commission. KWAT News Director Mike Tanner spoke with Commissioner Chris Nelson (pictured) about that, along with the future of wind energy projects in South Dakota…