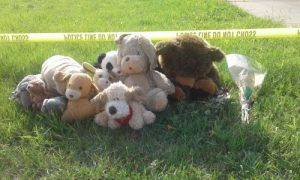 8-10-2017
Mike Tanner
KWAT Radio News
WATERTOWN, S.D. (KWAT)–New details have been released about the investigation into the death of a Watertown man last weekend.
Police were called to conduct a welfare check on 62 year-old William Keith Foster late Saturday morning at Foster's trailer home in the 400-block of 10th Street Southeast.
When investigators went into the house, they found Foster had been deceased for an extended period of time. 
Watertown Police Detective Nic Ahmann says an autopsy shows Foster died from a head injury sustained by a fall, and that his death has been ruled accidental.
But the story doesn't end there. Ahmann says within a day or two after police discovered Foster's body, a person or persons walked over police crime tape encircling the residence, and burglarized Foster's home. The missing items include a large flat screen TV, tools, an air compressor and tobacco products.
Ahmann says police knew the items had been stolen because they were captured in photos taken by police during the initial call to Foster's home.
Ahmann says a substantial cash reward is being offered for information that leads to an arrest and conviction of the person or persons responsible for burglarizing the home. Anyone with information can call Watertown police at 605-882-6210.
A small memorial of stuffed animals and flowers began showing up on the lawn of Foster's home this week. Foster formerly lived in Clark. A memorial service for him will be held Tuesday, August 15th at the Furness Funeral Home Chapel in Clark.  http://www.furnessfuneralhome.com/sitemaker/sites/Furnes1/obit.cgi?user=77746395_WFoster
KWAT News Director Mike Tanner's entire interview with Detective Nic Ahmann about this case can be heard here: