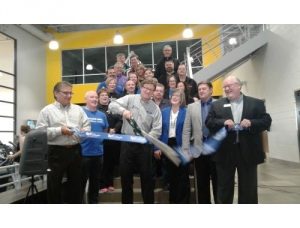 3-20-2017
Mike Tanner—KWAT Radio News
WATERTOWN, S.D. (KWAT)—After nearly two years of construction, ribbon-cutting ceremonies were held this morning to mark the completion and opening of the new $21 million Prairie Lakes Wellness Center.
Mayor Steve Thorson says the 104,000 square foot workout facility is a, "game-changer" for Watertown, based on comments he heard at an open house over the weekend….
Prairie Lakes is spending $2.2 million to put their name on the building. Their president and CEO is Jill Fuller….
John Small is the center's executive director. He says they moved a lot of workout equipment from the now-closed Rec Center into the new building last week. He says it went better than expected…
The Prairie Lakes Wellness Center is open to members from 5 am to 10 pm weekdays, 7 am to 8 pm on Saturdays and 10 am to 7 pm on Sundays.