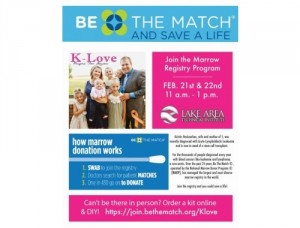 2-17-2017
Mike Tanner–KWAT Radio News
WATERTOWN, S.D. (KWAT)–A "Join the Marrow Registry Program" is being held at Lake Area Technical Institute February 21st and 22nd from 11 am to 1 pm each day.
The community is trying to find a bone marrow match for Kristin VanLaecken, a wife and mother of five who was recently diagnosed with Acute Lymphoblastic Leukemia, and is now in need of a stem cell transplant.
Today, Beth Kunkel and Trisha Rieffenberger were in the KWAT Studios talking with Josh Weyh and Mike Tanner about the registry program, and how the community can help. 
Listen to the interview here….