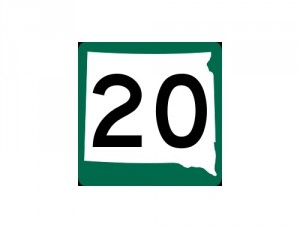 2-16-2017
Mike Tanner–KWAT Radio News
SOUTH SHORE, S.D. (KWAT)—Details are very limited, but the South Dakota Department of Public Safety has confirmed one person was killed this morning in a head-on collision near the Codington-Grant County line.
Spokesman Tony Mangan says it was a head-on crash, with one person killed. No names have been released.
Sources say the accident occurred on South Dakota Highway 20, a half mile east of South Shore.
The SafeTravelUSA website indicated the highway was closed in that area this morning as the Highway Patrol investigated the crash.
There was heavy frost cover reported on highways in northeast South Dakota this morning creating slippery conditions. There's no word yet if the crash was related to road conditions. 
KWAT News will bring you more information on this story as it becomes available.