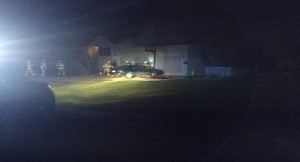 Photo courtesy Hamlin Co. Sheriff's Office
5-31-2016
CASTLEWOOD, S.D. (KWAT)—Fire damaged a Castlewood home early this morning.
The Hamlin County Sheriff's Office says a resident in the 400-block of Market Street called 911 just before 3:30 a.m. to report smoke coming from their garage and filtering into the attached home.
The family of five and a pet were able to escape the home without any injuries, but two other pets were lost in the fire.
Castlewood firefighters battled the garage fire for about an hour. They were able to keep the flames from spreading to the house.
The garage has extensive damage and the house has smoke damage.
There's no early indication how the fire started. The family is staying with nearby relatives.