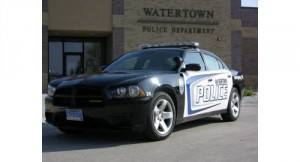 4-28-2016
WATERTOWN, S.D. (KWAT)—Watertown police have arrested a man wanted in an assault following a city-wide manhunt.
Detective Nic Ahmann says police were initially called to the 1300 block of 13th Avenue Southwest Tuesday night on a report of an assault.
Two men got into an altercation. One of them suffered serious injuries and was taken to Prairie Lakes Hospital. The other man fled prior to police arriving.
That suspect was identified as Charles Ohman of Watertown, who was on parole with the South Dakota Department of Corrections for aggravated assault.
Following an extensive city-wide search Wednesday, Ohman was found hiding in a residence in the 1000 block of 4th Avenue Northwest. Police forced their way into that home and arrested Ohman.
He's charged with Aggravated Assault and Absconding from Parole. Additional charges will be made after police seized drug paraphernalia and a firearm during the arrest.